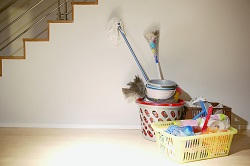 Quick And Easy Office Cleaning Tips
20 May 2015
Working in business is never easy; it's time consuming, the workload is often immense and sacrifices need to be made in order to become successful. This rarely leaves time for much else and so it's understandable that cleaning often gets pushed aside and that it may be low on your priority list. If you're not fortunate to be working in an office block that hires a cleaning agency, there are still plenty of things that you could do to spruce up the appearance of your office and make it a professional looking place of business.
1. Make sure that you're equipped to start.
You don't need to buy anything majorly expensive. Just the basic necessities will do the trick. You should always keep things like brushes, sponges, antibacterial sprays, a duster and other cleaners in the corner of your office or in a pantry, just in case you need to give your office a quick clean.

2. Get rid of any stains.
Food stains, spillages and splatters are a very common occurrence in office spaces, especially if you regularly put in long shifts and have to eat lunch or dinner at your desk. Use an antibacterial spray to clean up your desk, but be careful not to get any on your electronic items. There are special products that you can get to clean your computer and other office electronics, so do your homework before you start to spray everything and anything in your office.

3. Clean up stains and marks from your walls.
You'd want your office space to look as professional as possible, and that means taking care of the little details. Take care of the small things, and the big picture will look after itself. So, sort out any stains and marks on your walls. You can do this using a magic eraser. Cheap to buy and simple to use, this product can give you a quick and easy solution and will clean up the appearance of your walls.

4. Dust your entire office.
No matter what you do, if you haven't cleaned your office in some time, dust will cake pretty much every available surface in your office. Ceilings, walls, light fittings, electronic equipment and filing cabinets and desks are just some of the areas that are likely to be affected. Get yourself an extendable duster and use this to dust any hard to reach areas, such as the ceiling, light fittings, on top of filing cabinets etc. For your desk, use some polish to give the wood a fantastic sleek finish. Don't forget to clean your walls. Using a soft microfiber cloth, dampen slightly with water; then gently wipe down your walls. The word gentle is the key here, because wipe too hard and you could cause the paint colour to fade away or chip, which will cause further markings and will mean more work for you.

5. Getting your vacuum out is the only way to do your hard floor cleaning.
Mop your floors first to get rid of any dust then whip out a vacuum cleaner and get cleaning. Carpet cleaning can also be tackled with a vacuum cleaner but see to it that any stains are removed first before you get started.

6. Call up a cleaning company.
Speak to other people in your office block, as the premises may use cleaning contractors to give certain areas a weekly or daily clean. Get in on the act and see if you can hire their cleaning services for your office.


You may also like