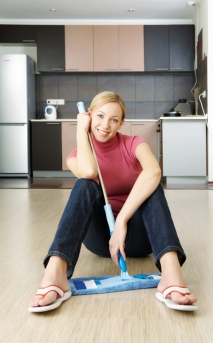 Cleaning Hints and Tips - The Study
30 November 2013
If we are fortunate enough to be able to designate a room as a study, chances are it will be an area that is designed to ooze diligence and calm. A place to work, catch up on some filing or unwind with a good book and some relaxing music.
Unfortunately studies are a place where clutter can reign king, and because of this cleaning starts to become difficult and time consuming. All this leads to the study losing its air of peacefulness because everything is covered in a layer of dust, which does nothing to calm the nerves and ends up rendering the room useless. It doesn't have to be this way however, and here are our top tips for achieving and maintaining a pristine study:
1. File weekly
Our studies usually contain a desk, and within the desk is where we tend to file all of our important documents that we at some point will require for reference. All of these important documents tend to come via the post, so at some point arrive through our front doors. It is amazing just how littered with scraps of mail our homes, not just our studies can become if post is dealt with in an un-orderly fashion. Open it downstairs, and once no more action is required and it is designated for filing quickly run it to the study and pop it in your in-tray (if you don't have one this is a great way of making a neat 'to file' pile that you can tackle when you have time). Tackle the in-tray once a week and this way you will not have loose pieces of paper strewn across your desk.
2. Switch electrical items off if you are not using them
As with our living rooms, when current passes through our electrical items, even when they are on standby, a magnetic field is created that actually attracts dust. So switch that printer off if you don't need it, and does your stereo system really need to display the time when there is a clock on the wall? It will make cleaning much quicker and easier, and save you a considerable amount of money in terms of your utility bills.
3. Make a habit of tidying your desk
Cleaning a desk can be a sizeable task if it is littered with documents (as already discussed), notes and gadgets. Make a habit of clearing your desk before you leave and close the door for the day – not only will this ensure you keep the area tidy and your documentation stays organised but it will also make your study a more pleasant room to return to.
4. Don't eat there
Your study is a place of work and rest. Don't eat there; it will be a distraction to the jobs at hand. Furthermore declaring your study a 'food free zone' will cut down on the need to clean – there is no chance of food spillage or those hated sandwich crumbs being trod into the carpet.
5. Don't leave a surface unturned
When it comes to cleaning a study, there is usually a lot to do. Bookshelves and CD racks all tend to be very accommodating of dust deposits. Find a good duster that can run over the tops of these items efficiently, and always make sure you get them all down and dust thoroughly on a frequent basis.
You may also like